Throughout prohibition, speakeasies sprung up all over the country. Because of the illicit nature of these entities, they are often referred to in conjunction with the Mob and organized crime. However, it is a little-known fact that three women – Texas Guinan, Helen Morgan, and Belle Livingstone (a Kansas native) – owned and operated upscale, nightclub-type speakeasies in New York during the roaring twenties. While other establishments were using scantily clad women to schmooze men out of their extra dollars for the proprietor, these women were taking the risks and earning as much as they could. Livingstone even opened and ran a "super-speakeasy" that charged a monthly membership fee, the first of its kind. Raids, arrests, and jail time became a regular routine for these women until prohibition ended in 1933.
Ironically, prohibition was the only brief moment in history that women were allowed to indulge in alcoholic beverages in mixed-sex company. Until the 1960s, single women were not allowed to order alcohol without being accompanied by a man. The reasoning behind such limitations were as ludicrous as those enforcing them. Some suggested women lacked the ability to calculate the check and tip total accurately, others reasoned that bars were too rough and crowded. Then, of course, there is the notion that men deserved a place where they could share lewd stories or the played out "boys will be boys" excuse. Some establishments would not even allow women to dine for lunch because they would be a considered a distraction to businessmen trying to close deals. In the 1950s, single women that solicited drinks from men at a bar were targeted by politicians, policemen, and liquor control agents. They were referred to as "b-girls" and the media warned the public of their sexual deviousness. Feminist groups protested, invaded, and occupied many bars and restaurants throughout the 50s & 60s demanding equal rights.
After winning the right to enter the bar rooms and pubs, women were still forbidden to serve booze, or the establishment suffered various legal consequences. But one Jewel Thais-Williams was fed up with the discrimination in the 70s and bought a club of her own. Catch One was one of the first black discos in the United States and for the longest time was the major black gay bar in L.A. Not only did she advocate for women, but she also fought for the inclusion of people of color and the LGBTQ community as well. Catch One became a hub for some of the biggest stars to ever perform including Whitney Houston, Luther Vandross, Janet Jackson, and Chaka Khan and was frequented by numerous celebrities in its forty years of business.
Fast forward to present day: women are essential to the nightlife industry. From bottle service and bartenders to the customer base, a bar/club need women to attract business and thrive. But women are slowly asserting themselves in the male dominated wine and liquor industry as well. As featured on our Instagram page every Wednesday this month: Nayana Ferguson is the first Black Woman to own a tequila company, The McBride Sisters are the largest Black-owned wine company in the U.S., and Fawn Weaver has turned her dedication to Uncle Nearest into one of the fastest-growing whiskey companies alongside her all-female leadership team.
As we close out Women's History Month, we would like to thank all the women that have laid the ground work for young girls around the world and across all industries. As a company, we value and recognize our female team members and those we work closely with in our own industry.
Ladies please remember –
You are vital. You are important. You deserve a seat at any table you choose. Keep shattering those glass ceilings!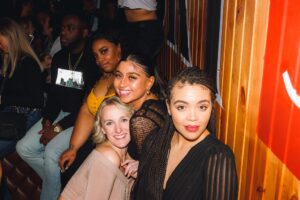 Nightlife Matters
By: Mackenzie Smith