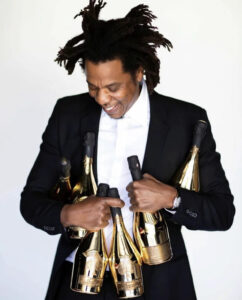 It was recently reported that LVMH, owner of Dom Perignon, acquired half of Armand de Brignac, the champagne known as Ace of Spades owned by Jay-Z. While the financial details of this deal have not been released, both parties will reap significant benefits.
For starters, this partnership comes at an opportune time for LVMH after being under scrutiny for lack of diversification. With a marketing genius like Jay-Z, this deal will surely begin to reach a demographic that the current all-white leadership team has failed to connect with. In return, Ace of Spades will now be affiliated with a well-renowned, global company – penetrating a once old-world, European market. This partnership will also allow for the other sectors and businesses under LVMH to benefit from the connections Jay-Z will undoubtedly introduce, giving the company more cultural appeal. 
While some may question the timing of this arrangement amid a global pandemic, the terms were originally discussed in the Summer of 2019 and in our opinion, the announcement makes perfect sense. The nightlife industry has been dormant for nearly a year at this point, but small semblances of normalcy are beginning to return. It should be anticipated that post-COVID-19, liquor sales in the nightlife industry will drastically increase as bottle service returns. Everyone will be seeking something to celebrate and what pairs better with a celebration than high-end champagne?
Nightlife Matters
By: Mackenzie Smith
Subscribe to our newsletter (here)